"I'm Not So Sure They're Not The Most Complete Team In The NFC"
October 19th, 2020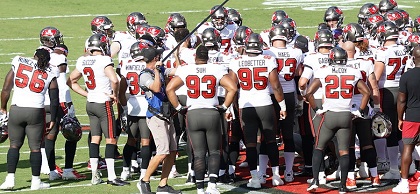 Joe spent the last 24 hours contemplating just how good the Buccaneers might be.
Didn't you?
Are they good enough to win the NFC South and land in the Super Bowl?
Joe's not so sure about both of those, but there certainly is no reason they can't win the division. The offense is balanced, deep and extremely dangerous — with a quarterback who prefers to protect the football rather than play with fire. The punting/kicking game has been reliable. And the defense is ranked No. 1 in the NFL.
There's finally evidence of leadership, and the coaches have experience.
Six games into a season is at least a reasonable sample size, and the Bucs' arrow is pointing up. Former Bucs QB Chris Simms, a former Patriots assistant coach and now an analyst for NBC Sports, thinks the Bucs might be the best in their conference. And he's questions for the doubters.
"I'm not so sure they're not the most complete team in the NFC. They're still a work in progress, but what are the weaknesses of the Bucs? You know, somebody tell me. Where is an area on the team where you go, 'Oh, that's a weakness," Simms said to today at ProFootballTalk.com.

"The D-line is the real deal. And that was the big difference in the [Packers] game. Suh is a force; he does pop a handful of times. He's immovable in the run game. So like his bad plays are just like, 'Oh, stalemate at the line of scrimmage; you have three guys blocking me and I didn't move.' That's the kind of guy he is."
It's a fun subject — the greatness of the Bucs. It's much more fun than counting interceptions, missed kicks, excuses dumb draft picks, lazy free agents and empty seats.