"I Felt Like We Were Able To Get More Pop"
October 5th, 2020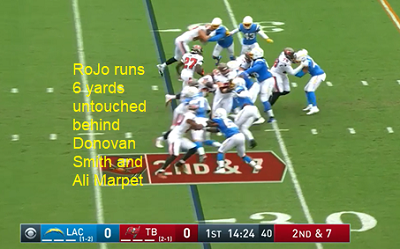 So what caused the surge of the Buccaneers' running game yesterday?
Joe's not used to watching a balanced attack.
Left guard Ali Marpet talked about it on the Buccaneers Radio Network after the game.
"I felt like we were able to get more pop," Marpet said.
Joe could see it from the opening snap. Play 2 of the Bucs' first drive is in the screen shot above. Ronald Jones went six yards behind Marpet and Donovan Smith before being touched en route to a 10 yard gain.
Joe asked Marpet about that line "pop" this morning and whether he saw a reason why it happened after watching the game film. Marpet credited the line being "on the same page," excellent tight end blocking and running backs falling forward.
As for the second half Bucs comeback against the Chargers, Marpet said, "We played to our ability. … I felt like there was a confidence we'd be able to get it done. Tom was confident, the whole offense was very confident. If we were given our opportunities, we'd be able to close them out."
Regarding the winning drive, Marpet shared Tom Brady's words before it happened. 'This is the drive that's going to get it done,' Brady said, per Marpet.
Fun time ahead on Thursday!!!
Bucs-Bears @BigStormBrewing in Clearwater.
Great fully covered outdoor seating, and gorgeous inside, too. Sage Ira Kaufman, @IKaufman76, will be there by 6:30 p.m. feasting & drinking a Bromosa.
Can't make it? Stock up on Florida's Best Craft beer. pic.twitter.com/kcNSTnNMj4

— JoeBucsFan (@JoeBucsFan) October 5, 2020