Back In The Spotlight
October 5th, 2020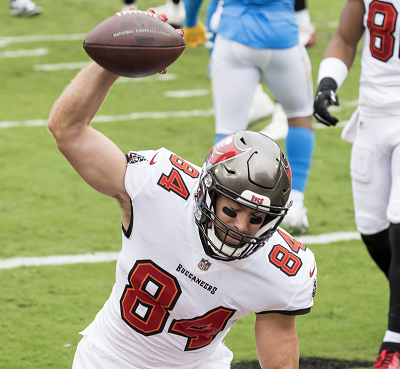 After all those spring and summer sessions with Tom Brady and friends at Berkeley Prep school in Tampa, and grinding through training camp after having The Sickness, imagine what Cameron Brate felt like being buried on the bench for the first three games of this season.
The dude was beyond an afterthought with O.J. Howard improving and Rob Gronkowski leading the way in snaps at tight end.
Brate, 29, probably felt frustrated and maybe a little lost after two injury-marred seasons without the production he was accustomed to.
Many Bucs fans balked that the team invested too much money in tight ends.
But Brate reappeared yesterday to catch the first touchdown pass of the day, a short route that showcased his ability to get open in the end zone — and one that showed some chemistry with Brady as Brate spun his frame open toward Brady as the ball was released. The photo above is Brate spiking his grab.
Then O.J. Howard went down in the second half with what likely is a season-ending Achilles injury and Brate jumped back into the spotlight. Just like that, with injuries at wide receiver, he becomes a key offensive cog again. And remember that blocking tight end Antony Auclair is on injured reserve.
The Bucs entered this season with ridiculous depth on offense and it's being tested and used. So far so good. Joe feels great today with Brate still being on the roster.