Hall Of Fame Flashes On The Rise
October 25th, 2020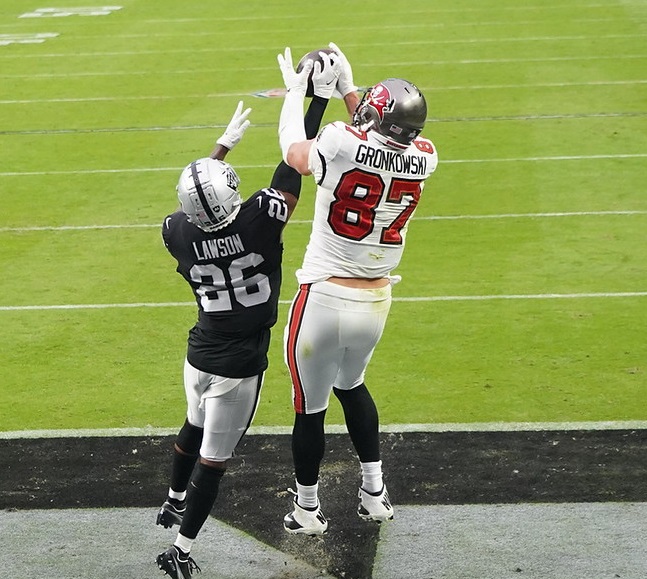 A month ago, future Hall of Fame tight end Rob Gronkowski looked like a dude running through wet sand wearing flip-flops — when his quarterback expected him to have good footwear and a smooth trail.
Gronk laughed it off and talked about he's a blocking tight end and dammit, you can't stop him from blocking.
Things have changed drastically.
Gronk is still blocking, but now he's showing flashes of his Hall of Fame self in the passing game. His hands are good. His routes are crisper. His running is more fluid. And his touchdown grab today was the kind of play that vaulted Gronk into the elite class of NFL tight ends.
The picture above is from the iconic JoeBucsFan.com photographer in Las Vegas today.
The Bucs found Raiders cornerback Nevin Lawson in 1-on-1 coverage against Gronk. A mismatch. But Lawson played it well and was in position to make a play, potentially even find an interception in the end zone. But Gronk literally skied for the ball, reached out his giant wings and ripped the ball out of Lawson's hand.
When Gronk is Gronk, he's uncoverable. And Bucs fans are seeing more flashes of that Gronk. He's got 10 catches on 16 targets of the last two games for 140 yards and two touchdowns.
Joe doesn't want to get too crazy and think Gronk can keep getting better and re-establish himself as a All-Pro, but Joe's going to do it anyway. If the Bucs can get Gronk to the bye week in December healthy, Joe can only imagine what kind of manbeast he can be during the stretch run.
How amazing would it be for the Bucs to win the division and get Gronk a second bye week?