"For Tom Brady, There's Simply No Other Way"
October 28th, 2020
Back in 1979, a young reporter from Brooklyn became a New York Giants beat writer. The NFL hasn't been the same since — and neither has the Tampa area. The Sage of Tampa Bay Sports arrived in 1985 to cover the Buccaneers, and Ira has since earned Ph.D. status in mauling buffets, schmoozing front office types, never revealing sources, and podcasting. 
BY IRA KAUFMAN
Through seven weeks, it's all going according to schedule for a franchise that often didn't seem to have a plan.
The 5-2 Bucs are rising up the power rankings and some prominent league pundits are starting to praise Tampa Bay as the most complete team in the NFC. That's quite a leap of faith after a bitter Week 5 loss at Soldier Field, where Tom Brady lost track of downs and a prideful defense forgot to make key stops.
"I knew it was a good football team," Phil Simms said on "Inside The NFL." "And I knew Tom Brady's way of working and handling himself would change the players and the coaches. And they have definitely done that. I have no questions now. Tampa Bay is for real. I'll be shocked if they fall apart."
He's not alone.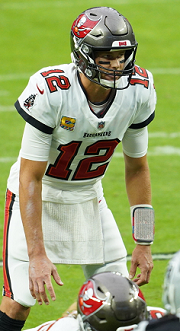 "Looking at the tape, I see this team coming together," says Ron Jaworski, who will work Monday night's game against the Giants for Westwood One Radio. "They are giving us a template for who the Bucs are. I really don't have any lingering concerns about this team. I was a little worried about the offensive line at the start, but those guys have held up."
The Seahawks and Packers have only one loss apiece, but the Bucs look like a more balanced club. Seattle's defense is pedestrian at best and Tampa Bay has already spanked Green Bay, making Aaron Rodgers look like Mitch Trubisky.
While the Bucs have added players like Rob Gronkowski, Tristan Wirfs and Antoine Winfield Jr., it is Brady's presence that has made all the difference.
"I've got a tremendous amount of respect for him,'' says Giants coach Joe Judge, a Bill Belichick assistant in New England for eight seasons. "Tom was a ton of fun to be around. You really got to see one of the great competitors on a daily basis of not only how he performed, but more importantly, how he prepared.

"I think that's some of the things that get overlooked. It's not accidental this guy's playing this late in his timeline of being 40-plus years old and still playing at this high level."
Jaworski ,who enjoyed an accomplished 15-year career under center, has run out of superlatives for No. 12. And the worst news for Bucs opponents is Brady is steadily becoming more accustomed to his supporting cast.
"Tom's starting to understand how his guys run their routes," Jaworski says. "The man's playing at a phenomenal level right now."
While the Saints have outscored opponents by a mere six points on the season, Tampa Bay is a plus-80 in point differential and the Bucs are averaging 80 yards per game more than the opposition. It's been all Bucs in the trenches, with 25 sacks for Tampa Bay while Brady has been dropped only eight times.
The defense has done its part as well.
Todd Bowles is ordering up blitzes more often than any other defensive coordinator in the NFC. Buc pass rushers are coming from every angle and second-year linebacker Devin White has been unleashed – with startling results.
"I love this defense," Jaworski says. "Bowles loves bringing that pressure and you don't know where it's coming from. That's the key. What you see pre-snap is not necessarily what you get."
Now Antonio Brown, cast off by the Steelers, Raiders and Patriots, gets his chance to make an impact for an NFC team. Not just any NFC team, but a franchise earning respect as a legitimate Super Bowl contender.
"If he doesn't fit in and if there is any disruption, good knowing you man, out the door," says Simms.
According to Jaworski, Brown's talent is too rare to pass up.
"You're talking about one of the most dynamic, if not THE most dynamic player in the NFL a few years ago," said Jaws.  "If you get a chance to sign a guy like that at a bargain price, you say yes. Having Brady there will make all the difference with Antonio Brown. Brady hates to lose and he demands everyone else to compete like he does. For Tom Brady, there's simply no other way."