Devin White Is A Grizzly
October 27th, 2020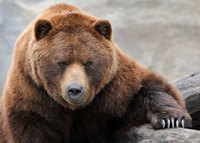 Derek Carr was so helpless Sunday against Devin White and the Bucs, he looked like a salmon about to be eaten by a grizzly.
That's the picture Mike Tanier of Pro Football Network had watching White, the Bucs inside linebacker, mauling the Raiders quarterback.
White may have had his best game as a pro and was such a force, Tanier knighted White with his "Defender of the Week."
Tampa Bay Buccaneers LB Devin White recorded three sacks, including one where he swiped Derek Carr to the ground with one hand like a grizzly bear swatting a salmon, and another to halt Carr short of a first down on a critical fourth-down bootleg.
Now fellow inside linebacker Lavonte David didn't have a huge game, but he did have eight tackles. Could it be Chucky was focused on taking David out so much that he totally forgot that White was damn near as dangerous and White went wild as a result?
Perhaps. But White is that good too.
If White can be that much of a beast in the pass rush (that's what Bucs coach Bucco Bruce Arians predicted him to be), that just adds another scary dimension to an already powerful defense.