Bucs On Track To Play Sunday
October 23rd, 2020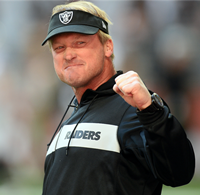 The Bucs are set to play Sunday.
For now.
Of course, yesterday the NFL moved the Bucs game from Sunday night to Sunday afternoon after the Raiders had an outbreak of The Sickness — right tackle Trent Brown is largely cited as the culprit.
This morning, Albert Breer of SI.com reports that after yesterday's round of tests, no additional Raiders have tested positive. This is important because it keeps the Bucs-Raiders game on schedule for Sunday.
Breer, as you can read in his Twitter below, noted that any additional positive tests between now and the game could force the NFL's hand to move the game to a Monday night or a Tuesday night.
None of the Raiders' starting offensive linemen have practiced this week. Not one snap.
Joe is crossing his fingers this game kicks off as planned.
The Raiders have no new positives from Thursday's round of testing, source said. Keeps the team on track to play the Bucs on Sunday, with flexibility to move it to Monday or Tuesday if need be.

Handful of Vegas o-linemen haven't practiced all week.

— Albert Breer (@AlbertBreer) October 23, 2020