Bucs Game Ripped Off Sunday Night Football
October 22nd, 2020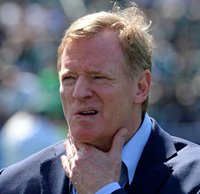 Ouch!
The Bucs' big matchup on Sunday Night Football at the Las Vegas Raiders has been moved to a 4:05 p.m. kickoff on FOX. The Seahawks-Cardinals game was moved up to the prime-time spot on NBC.
NBC likely flexed the Bucs out of the game because the Raiders are dealing with COVID-19 issues and the game could be cancelled or moved to Monday or Tuesday.
That's to be determined.
And Joe suspects the Raiders are begging the NFL to move the game or push it to the expected Week 18 slot for makeup games. There's no way Chucky wants to face the Bucs shorthanded. The Raiders' starting offensive line hasn't practiced this week because of COVID-19 concerns. Right tackle Trent Brown is in the league virus protocol.
The Bucs already were scheduled to fly into Vegas on Saturday, so this likely doesn't change their schedule.
---
Cigar-totin' Buccaneers legend Derrick Brooks sat down with Devin White & Ira Kaufman for an all-new TAMPA TWO.
Another iconic episode from The Identity Tampa Bay and Joe. Watch below!