Brate Talks New Vibe, New Confidence
October 6th, 2020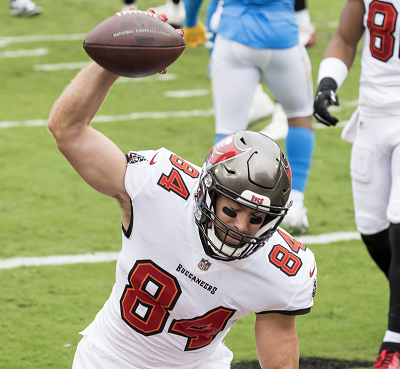 Cameron Brate told Joe and other media today that he's ready for a lot more duty now that O.J. Howard's season is over.
But Brate also noted he wasn't quite prepared for something he experienced Sunday.
A Buccaneer since 2014, Brate has seen a lot of sad-sack Bucs football. Many fans call it "A Bucs Life."
But Sunday was a special comeback from a 24-7 deficit. This afternoon, Joe asked Brate about what's he's learned about the 2020 Bucs since he's spent so much time on the bench.
The response was rather intriguing since Brate went right back to Sunday's win.
JoeBucsFan.com: Can you point to something specifically that you most learned or observed about this team as a whole because you spent more time watching on the sidelines?

Cameron Brate: I know it's been said, but last week was a game I'm not sure throughout my career here – really any year – if that's a game we would've won. We were playing terrible kind of offensively and defensively there in the first half. We kind of got bailed out a little bit with the fumble there at the end of the first half but coming back from 17 points [down] is hard. Honestly, I feel like that's more of a mental block to kind of get over – we are not out of this game despite the fact that we are three possessions away. To kind of show the resilience that we did last week as a team – not just any one player, but collectively as a group – was an awesome step forward for us and something that we're going to probably have to do again at some point during the year. That's definitely – I feel like – kind of going to be a turning point for us.
The "not just any one player" line is one that Joe liked a lot. If the Bucs are going to win a Super Bowl, the changes Bucs fans are savoring can't be just about the quarterback, even if he is the most successful in NFL history.