Bears 20, Buccaneers 19
October 8th, 2020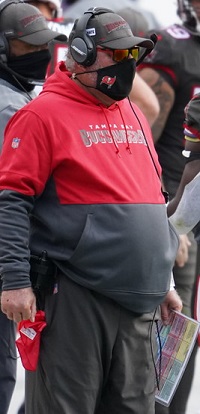 What a hot mess that was.
Our beloved Bucs aren't the team we want them to be after 11 penalties for 109 yards helped doom them in Chicago tonight while the offense went limp in the second half.
The Bucs fell to 3-2 and lost a critical conference game to Nick freakin' Foles.
Yeah, it's a bad loss. When you're up 13-0 and lose 20-19, there's no other way to spin it.
Where was the innovation on offense? And why can't the Bucs play a complete game, you know, 60 minutes?
The consistent sloppiness was inexcusable and it extended to the Bears' winning drive. There's no reason the Bucs can't cover a running back out of the backfield with three defenders in the area.
To make matters worse, Bears kicker Cairo Santos (remember him?) beat the Bucs with two clutch field goals in the fourth quarter.
Kudos to Ronald Jones for another 100-yard game, 17 rushes for 106 yards. And rookie receiver Tyler Johnson stepped up in a big way with his first significant action.
Joe is pissed that the Bucs laid down at the end of the first half with time to spare and a timeout. Unacceptable! Especially after going for it on 4th-and-1 on their own 19 yard line early in the game.
Are we to believe Tom Brady didn't know what down it was at the end of the game? Joe is ill.
It looks like more injuries hit the Bucs on both sides of the ball, which makes matters worse.
Up next? The undefeated Packers.