Antonio Brown Gets An Endorsement
October 28th, 2020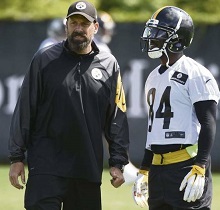 Todd Haley spent six years as Antonio Brown's offensive coordinator with the Steelers.
Haley's the guy who took over when Bucco Bruce Arians stopped calling plays for Pittsburgh following the 2011 season.
Haley has coached Larry Fitzgerald and Keyshawn Johnson, and he didn't hesitate on ESPN Radio this week to say Brown should be a good fit in Tampa if he's "on the reservation" mentally.
"I'm excited for A.B.," Haley said while noting Brown's deep love of football.

"Obviously Tom [Brady] had a big say in it. … He's knows there's something there he can depend on. …

"A.B.'s a big, big personality. I think a very likeable guy, you know, when he's on the reservation. … There's nobody that practices or works harder. I've given young receivers to him and said, 'Hey, can you help train this guy in the offseason and they call two days later and they say, 'I can't do it.'  I mean, it's 6 a.m. treading water and catching balls in the pool. It's pilates next. Then running. It's no joke. He's the hardest worker I've ever seen. I mean, he doesn't stop. It's full-time for him. But he's a likeable guy, a great personality, great smile…. I think he'll do fine."
Very nice endorsement there from Haley.
Brown is an incredibly disciplined and driven guy, except when he's not.
Hopefully he can hold it together for the next 15 weeks or so.