Where's Gronk?
September 20th, 2020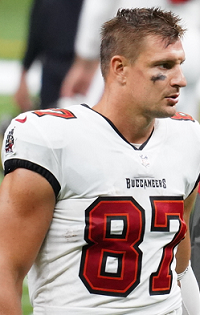 Future Hall of Fame tight end Rob Gronkowski has 11 yards receiving in two Bucs games.
Yes, he's healthy.
Joe's trying to find a silver lining.
Joe doesn't want to believe Gronk is washed up and worn out, even though he's looked that way in the passing game. Joe's hoping the guy is just shaking off rust after a year out of football and diving into a new playbook.
Yeah, Joe's making excuses, but sometimes excuses are flat out accurate.
For now, Gronk can still seal the edge in the run game, as he did on Ronald Jones' touchdown in today's victory. Joe's not seeing issues with Gronk's blocking, though he doesn't look like the punishing animal he was years ago in New England.
On the upside, Gronk isn't being overworked and taking all kinds of shots to his body over the middle of the field. On paper, he was a luxury signing for Tampa Bay, and so far he's been a luxury/bonus kind of piece. The Bucs haven't had to rely on him.
Will Bruce Arians, Bryon Leftwich and Tom Brady try to get Gronk more involved in the passing game, or will they just let it happen organically?
Joe's sort of hoping the Bucs can win without Gronk being special. That would bode well for next year's salary cap dilemmas, since Gronk is on a one-year contract. And yes, Joe believes the Bucs can win without Gronk looking like the Gronk of old.