"We Can't Control How They're Going To Play"
September 29th, 2020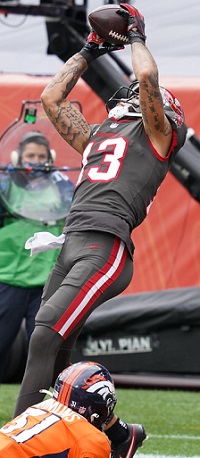 In two of three games this season, Mike Evans amassed a grand total of four yards receiving.
Offensive coordinator Byron Leftwich talked about that today.
Will it continue? Is Leftwich ok with Evans producing like that, even if he had two catches for two yards and two touchdowns on Sunday?
Leftwich seemed to say that's just fine during his visit to Bucs Total Access.
Simply stated, Leftwich said that like fans, he also views the Bucs as having a multitude of stud weapons. So if teams are going to double team Evans constantly, as happened Sunday in Denver and often in other games, then Leftwich will look elsewhere and not force things to Evans.
"We can't control how they're going to play," Leftwich said of the many more double-teams of Evans this season. "We're still doing things to try to get him the ball."
"That's how we view it," Leftwich continued, when asked about quickly looking to other pass catchers as a playcaller if teams are over-committing to take out Evans.
Leftwich said his job is to put guys into position to succeed and not worry about forcing things to anyone. That jibed with what Leftwich stressed repeatedly last Thursday, that the Bucs offense should evolve organically.
Evans has elite and well-rounded skills, Leftwich said, and that's why he was able to make the difficult short touchdown catches look so easy Sunday.
Interestingly, Leftwich said of Rob Gronkowski's big day. "I do believe he played faster Sunday." And Joe is sure that will be noticed by defensive coordinators, as well, likely giving Evans less attention going forward.