Preparation
September 29th, 2020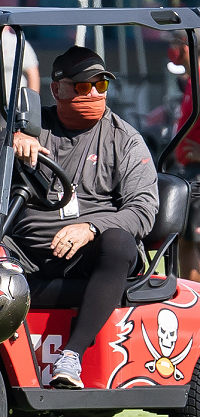 Peter Schrager of NFL Network had a very interesting observation earlier this week.
Schrager, the closet Bucs fan who co-hosts "Good Morning Football" seen weekday mornings on NFL Network, noted that the Bucs have outscored opponents 31-0 in the first quarter of their first three games. How wild is that?
Those numbers have a deeper meaning to Joe. It demonstrates that the Bucs are coached up, prepared for kickoff, ready to pounce on opponents.
It also tells Joe that the biggest and brightest coaching staff has scouted opponents rather well. What a refreshing change this is.
The Bucs currently lead the NFL in points scored in the first quarter. And that is allegedly with an offense that park-violating, home-invading, NFLPA-ignoring Bucs quarterback Tom Brady is uncomfortable with — and with an offense with virtually no running game.
How many years did the Bucs always seem to be losing early in games? It used to drive Joe wild how unprepared Raheem Morris' teams were to start games. The Bucs were always playing from behind. Joe wrote numerous articles how the Bucs, with Morris as coach, should have hired an outside consultant to help figure out why the Bucs so often either dropped the ball in preparation or scouting.
The Bucs were bottom of the barrel in scoring in the first quarter under Morris. It also was not an uncommon trait in the Lost Decade.
With the exception of former Bucs commander Greg Schiano and Bucco Bruce Arians, the Bucs almost always finished in the bottom half of the NFL in scoring in the first quarter of games.
NFL Rank First Quarter Scoring
2010: 29th
2011: 30th
2012: 9th
2013: 10th
2014: 31st
2015: 23rd
2016: 18th
2017: 12th
2018: 19th
2019: 3rd
2020: 1st (through three games.)
Again, Joe believes this is a combination of strong scouting and attention to detail in preparation. Either way, it is a welcome change from the trend developed in the Lost Decade.