Walking The Tightrope
September 3rd, 2020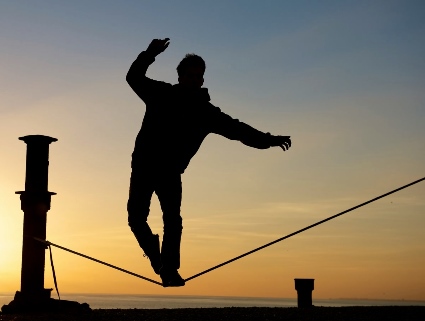 Yesterday, foot-rubbing Bucs tight end Rob Gronkowski did a photo opp walking a tightrope with the daredevil Nik Wallenda in Sarasota.
This morning, Bucs coach Bucco Bruce Arians was walking a tightrope of his own doing.
Arians began his post-practice presser (via Zoom) with a cat-ate-the-canary smirk on his face. Bucs fans can relate, given how the Bucs landed stud every-down back Leonard Fournette last night.
But about midway through the presser, Arians did a balancing act without a net. For months, Arians has been talking up Ronald Jones as the go-to guy in the Bucs backfield, the team's No. 1 running back.
Joe gets it; a lot of what Arians said was to boost RoJo's confidence. Joe fully understands the reasoning behind Arians' lofty words for a third-year back that hasn't really demonstrated much in the NFL (yet) outside of a sporadic good play.
Arians was asked today, in so many words, how he can walk back his previous comments lauding RoJo and then luring Fournette to Tampa Bay with a bagful of Team Glazer loot less than two weeks before the first game of the season. Arians was also asked if RoJo is still the Bucs' "workhorse?"
Arians said RoJo is still the go-to guy in the backfield.
"It's his job," Arians said. "It's his job. Nothing has changed for him. We just added a heck of a piece for insurance and see what kind of role he can cut out.

"RoJo, it is his job. If he wins it or loses it — he's already got it so he would have to screw it up. So, I don't see that happening."
Oh, it is going to happen. The Bucs didn't just sign a healthy, 25-year-old running back at $3.5 million for this season — who averages 101 yards a game from scrimmage — just to ride the pine and daydream of the day the Bucs had cheerleaders on the sidelines.
Now RoJo may "lose" (ahem) the job but it is Fournette's job, once he learns the playbook, to lose.
Does Joe think RoJo will get his share of touches? Sure. But the only way he supplants Fournette as the team's No. 1 back is if Fournette gets hurt or RoJo plays so well the Bucs can't pull him off the field.
And if that is the case, then Joe suspects the Bucs are leading the NFC South race. So that's a win-win. A win for RoJo and a win for the Bucs.
As for Arians, it was a nice job of tap dancing. Joe highly, strongly doubts RoJo is the go-to guy in the backfield when October rolls around. But if he is, the Bucs should be clobbering people.