Throwaway Pick
September 4th, 2020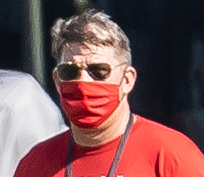 So the Bucs just cut their fifth-round pick from a year ago, their second drafted kicker launched in the last four offseasons.
But Joe, Matt Gay was a fifth-rounder, that's a throwaway pick. Right?
If Joe hears the term throwaway pick one more time, Joe's going to throw something.
Drafted immediately after Gay was Amani Oruwarive, a cornerback out of Penn State who had two interceptions with the Lions last year. Joe's confident the Bucs would like to have him on the roster. Two picks later was Dre Greenlaw; the SEC linebacker made the all-rookie team on defense, plus he's a core special teams player for the 49ers. The Bucs sure could use him today after cutting special teams captain Dare Ogunbowale. Up next was Hunter Renfroe … fantasy football players know all about him.
Joe is pissed off that Gay didn't work out. Who the hell drafts kickers like the Bucs do? Nobody.
Whoever is in charge of kicking scouting at One Buc Palace needs one of those George Costanza opposite days when it comes time to decision-making on kickers.
And what about the dedicated kicking coach? Joe hopes he stays far away from Ryan Succop.