Special Day
September 27th, 2020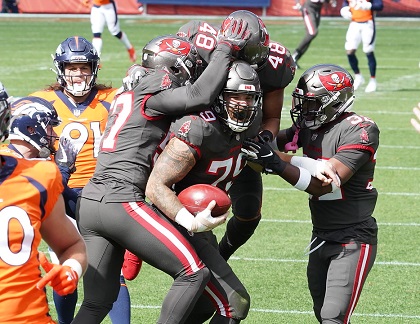 When is the last time the Buccaneers' special teams looked better than its opponent in all four phases?
Joe really can't recall. It's been a long time. It's been that bad.
Today in Denver was a different story. Ryan Succop continues to kick like a gift from the football gods, and Jaydon Mickens looked good on punt returns and the Bucs didn't have any coverage gaffes. In fact, Bradley Pinion was so damn solid, there were zero Denver returns today!
But the big play came in the first quarter. Reserve defensive end Patrick O'Connor (with the ball above) busted through the gut of the offensive line and blocked a punt that he recovered and rumbled to the Denver 10 yard line.
Hallelujah!
What a play it was, and what a day it was for the Bucs' special teams, though there were sloppy penalties.
Special team was a massive area of necessary improvement this season, and strides are being made.