Shaq Switch Explained
September 24th, 2020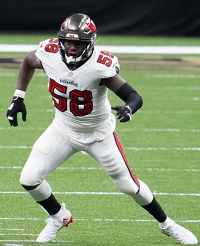 Interesting revelation today by the 2019 NFL sackmaster Shaq Barrett.
For those paying attention, Shaq is now lined up off the left edge — after dominating the NFL from the right linebacker position.
One might think the Bucs wouldn't dare move a guy when he was so successful, but Shaq said he was all for it and it sort was his decision along with his partner in crime on the other side, Jason Pierre-Paul.
It was made clear by Shaq; he prefers the left side and thinks it suits his strengths better. JPP wants the right side and it was more their collective call that Todd Bowles going all guru and making a needless change, Shaq said.
Kudos to Bowles for being so player-friendly. Joe just hopes it was the correct call.