RoJo Punches Off The Ropes In The RB Battle
September 27th, 2020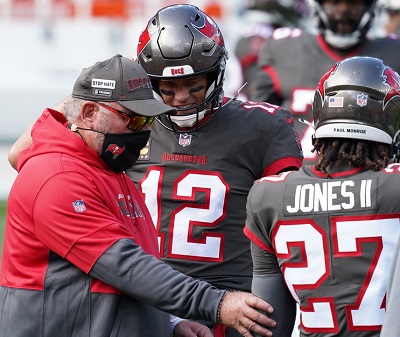 Look who closed out the victory today with five consecutive runs for two first downs, allowing the Bucs to take a glorious knee two consecutive times.
His name isn't Leonard.
Joe is very proud of Ronald Jones. He could have wilted after Leonard Fournette stole the show against the Panthers last Sunday and possibly his job.
But RoJo stood tall today and was the better running back, and more valuable. Fournette fumbled and was ineffective seven carries for 15 yards. Yeah, the fumble was credited to Tom Brady, but the handoff was right in Fournette's gut. RoJo finished with 13 carries for 53 yards, including a Mike Alstott-style run Joe wrote about here, and he had 2 catches for 20 yards (though it seemed he misplayed a short throw in the red zone).
No, nobody expects this game to catapult RoJo to a Pro Bowl. But as Joe wrote this morning, this was a critical game for RoJo's confidence, and RoJo has to be beaming right now for delivering.
He'll continue to be an important cog until Fournette can find a rhythm.
RoJo got his third consecutive start today, and Joe expects No. 4 next Sunday.