Reality Check
September 14th, 2020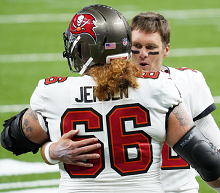 Prior to yesterday's pants-soiling Bucs loss at the Superdome, Joe was determined not to have an overreaction Monday because Joe did not expect the Bucs to beat the Saints en route to a 10-win Tampa Bay season.
So today is a shred less painful.
Joe's enjoying a miserable Monday without the use of anti-anxiety medicine.
Joe feels for the fans who did not expect a rough day against the well-oiled, well-coached machine the Saints have become. They're powerful in the trenches on both sides of the ball, and they're spectacular on special teams, and in their secondary. Throw in an All-Pro running back who can beat you when the passing game is sputtering, and they're a brutally tough out after a bizarre offseason.
On defense, the Bucs held New Orleans to a 5-of-15 conversion rate on third down. That's damn good. And the Bucs run defense was fantastic while defending its No. 1-rush-defense status. New Orleans averaged 2.4 yards per carry, and keep in mind the Saints were one of only two teams to run the ball rather well against the Bucs last year.
What killed the Bucs defense? '
]Screwups in the secondary and sloppy penalties there and elsewhere, a very familiar 2019 theme song.
Joe didn't expect much more from a bunch of 23-year-olds and a rookie in the defensive backfield, or the team that led the NFL in penalties last year. Those aspects of the Bucs' game remain a work in progress.
Still, Joe knows the Bucs will not face a complete team like the Saints again until the Packers come to Tampa in Week 6 — unless you think what Mitch Trubisky pulled off yesterday for the Bears (with Cairo Santos kicking) was the real deal.
The Bucs offense should get a lot better in a hurry on Sunday and the ship should be righted swiftly against Carolina. If the Bucs lose Sunday at home to the Panthers, well, then go ahead and pencil in Joe for an absolute mental breakdown on these here pages next Monday.
Keep your head up today, even if you have to deal with Bears fan or Packers fan or Jaguars fan at the office.