Five Things
September 14th, 2020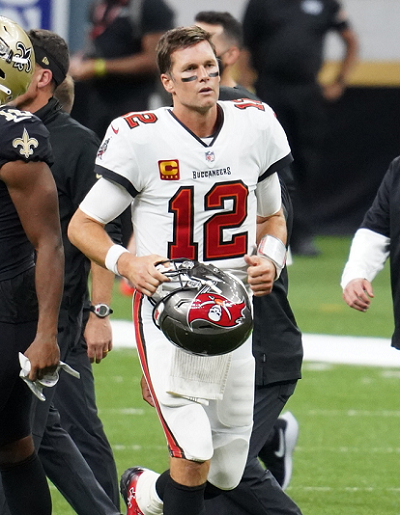 Monday stinks enough as it is without making it worse waking up after a Bucs loss. So let's get going.
The Quarterback.
There is no doubt that Tom Brady is one of the best quarterbacks to have ever lived. Some say he's the greatest. Joe is still partial to Joe Montana. But that's not what this column is about.
Rarely has Brady, the park-violating, home-invading, NFLPA-ignoring Bucs quarterback, had days like he had in his Bucs debut. Was it this stuff about having a short offseason and not knowing his teammates well enough? Or is it Brady, 43, is finally showing his age? Or a little of both?
Ironically, the way Brady played yesterday is the exact same reason he is here. Brady's predecessor, who had grown into a prolific passer, was a turnover machine. So let's compare Brady and YouKnowWho against the Saints in recent games.
Brady at New Orleans 2020
23-36, 239 yards, 2 TDs, 2 INTS, 3 Sacks
Jameis at New Orleans Oct. 19, 2019
15-27, 204 yards, 2 TDs, 0 INTS, 6 sacks
Jameis vs. New Orleans Nov. 17, 2019
30-51, 313 yards, 2 TDs, 4 INT, 2 Sacks
Nothing to write home about in any of those games. And the quarterback performance is roughly the same in each.
Joe doesn't think the Bucs waved goodbye to a guy to a former overall No. 1 pick that they spent five years grooming to get a guy with six Super Bowl rings just so the production at quarterback stays about the same. The six sacks Jameis took last October is glaring because unlike Brady, Jameis was mobile.
Not buying offseason excuse.
One thing became obvious yesterday: the con of preseason games. There is no way one could have watched Sunday's games and concluded the NFL cannot survive much longer without the preseason.
Tristan Wirfs (more on him later) and Antoine Winfield, Jr. (more on him later) did just fine for a pair of rookies in their first times facing someone on another NFL team, thank you. Rookie Joe Burrow of the Bengals connected on 23 of 36 passes. Like Brady with the Bucs, Burrow wasn't on his current team last year ,nor any NFL team.
Second-year guy Kyler Murray of the Cardinals connected on 26 of 40 passes and he had new receivers. And Burrow and Murray each had half as many picks as Brady. With a new head coach and quarterback, the Panthers rolled up 30 points without a turnover.
Every NFL team had virtually no offseason and Brady was not alone in having to learn new receivers or new to a team. So Joe isn't buying that excuse of a limited offseason hurt the Bucs offense.
Did the Bucs' offense look shaky on their first drive?
Behind the 8-ball already.
Bucs fans didn't want to read this today
Per Nate Davis of USA Today, the Bucs' chances of making the playoffs, if you are a slave to history like Joe is, took a major hit yesterday.
How important is a 1-0 start? Since the NFL expanded to a 16-game schedule in 1978 (minus the strike-shortened 1982 season), teams losing their opener have reached the playoffs only 24% of the time.
This makes Joe just want to go throw up. However, not factored is the NFL has expanded the playoffs this year. Previously you had your four NFC division winners advance,and two wild cards. Now there's a third Wild Card team.
In an offseason of unparalleled hype, Joe cannot imagine what Team Glazer might do if the Bucs miss the playoffs this year. Again.
Paging Shaq Barrett.
Joe loves Shaq Barrett but the current reigning NFL sack king was pretty invisible yesterday. He had three tackles, no assists. Oh, and a pass defended. That is it.
Not a good way for Shaq to ball out again and get that long-term contract he was looking for. Could it have been that Shaq just had a bad game or the slimy Saints were determined to take him out as they did twice last year?
Joe guesses the latter. But hey, Shaq couldn't say he wasn't getting help because Jason Pierre-Paul was hurt. JPP played.
Joe fully expects Shaq to make his mark against the Stinking Panthers. The Bucs need his production.
Rookies look solid.
Entering the game, Joe was wringing his hands in fret over Saints Pro Bowl defensive end Cam Jordan schooling rookie right tackle Tristan Wirfs. As it turned out, we all should have been worried about the other Bucs' tackle.
Joe isn't saying Wirfs played a perfect game. He was beaten clean by Jordan for hit on Brady, and he had a well-timed penalty in the second half, where Wirfs seemed to channel his predecessor Demar Dotson with a false start.
On defense, Winfield, also in his first NFL game, played like the baller he looked to be in college. And he nearly had a sack on Drew Brees, chasing the fortysomething out of the pocket.
The two rookie starters were solid. They sure didn't embarrass themselves. In Joe's eyes, that's a fantastic sign.