Part-Time But Big Time
September 29th, 2020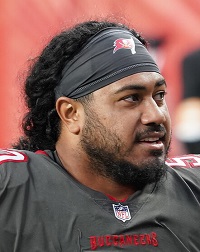 The No. 12 overall pick in the 2018 NFL Draft had a strong game Sunday in Denver.
Defensive tackle Vita Vea was showcasing his manbeast status, but he's still not getting a ton of playing time.
Joe's not quite sure why Vea logged just 59 percent of the defensive snaps after taking only 56 percent against Carolina.
"He got the sack [in Denver]. He had two more really good pressures, where he just really forced the quarterback," Arians said of Vea's showing on Sunday, via WFLA.com.

"The quarterback knows when Vita's coming up the middle. You know, he walked that center back into him a couple times and really disrupted him and got him off his spot."
It was a strong day for Vea as the run defense was smothering again. The Broncos handed off 11 times for 28 yards. Vea rushed the passer well and helped anchor that elite Bucs run defense, yet he's not getting the full-time workload you'd think a top draft pick would command.
And Joe isn't buying it's because journeyman Rakeem Nuñez-Roches had such a great training camp.
Is Vea's old hand injury holding him back? It didn't look that way on Sunday.
Is it stamina? Joe's not sure.
Joe will be very interested to see how much Vea plays Sunday and in Chicago four days later on Thursday Night Football.