Bruce Arians: "I Wouldn't Say We're Jogging, I Think We're Still Crawling"
September 29th, 2020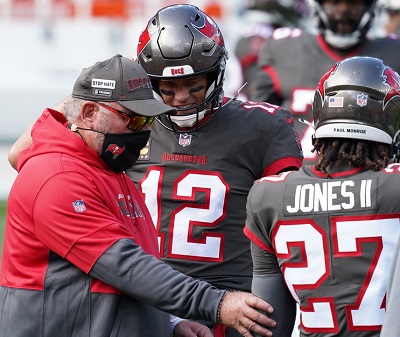 The 2020 edition of the Bucco Bruce Arians offense has a long way to go and the head coach told Dangerous Dan Lucas all about it.
Bucs fans can see things aren't quite what they used to be, with Mike Evans averaging just 36 yards receiving through three games, and the offense ranking 25th in total yards.
During his weekly chat with WFLA sports chief Lucas, Arians said yesterday that the offense is coming along slowly and is far from where it will be.
"I wouldn't say we're jogging; I think we're still crawling, because we're still leaving plays out there," Arians said. "But we see them and I think we'll start making more and more of them.
Arians cited repetitions as being the key, and he dove into production against the bungling Broncos.
"I thought Tom [Brady] played really, really well. They were going to double cover Mike and then Chris [Godwin] some, but Mike the whole ballgame.  You know, just finding his tight ends, finding his backs, moving the chains," Arians said. "I thought our running game was solid at times. We didn't run it a lot in that ball game. But I thought at the end of the ballgame RoJo really ran well. Chris made some great plays. Mike 2-for-2-for-2. That's a hell of a stat line, two catches, two yards, two touchdowns.  … He finally got single-covered and Tom used him. It was one of those types of days. We left a lot out there still. We're still growing as an offense."
The head coach noted that the Broncos played "split safeties" all day while double-covering Evans wherever he lined up. For Arians, that meant a day for his tight ends, and they came through. "If they want to play us that way, [tight ends] got to win inside," he said.
Joe looks forward to the Bucs' continued growth on offense against a Chargers defense that couldn't stop the run or the pass on Sunday against a Panthers weak team without Christian McCaffrey.