NFL Mask Cops Crack Down On Failing Coaches
September 14th, 2020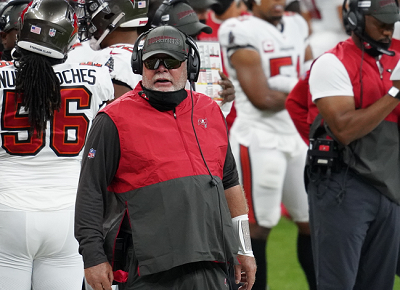 Perhaps the Bucs should re-hire Greg Schiano as a discipline consultant specializing in mandatory mask-wearing policy on gameday.
"Masks over the nose! Masks over the nose! Toes on the line!"
Joe already can hear the former Bucs commander screaming at current Bucs QB coach Clyde Christensen, who seems to be the Bucs coach most disinterested in proper mask procedure mandated by the NFL.
During yesterday's pants-soiling loss at New Orleans, Bucco Bruce Arians, a diligent and obedient mask guy, lost his way multiple times.
Today, the NFL fired off a stern letter to teams about the mask mandate. It's in the Tweet from NFL Network reporter Tom Pelissero below.
Maybe the NFL will come up with a creative penalty for these football scofflaws. For example, maybe a team will have to replace its starting left tackle for a series if a coach is spotted without a mask. Nah, that might always be a punishment.
Joe finds it a bit comical that the coaches are getting a finger-wagging today, considering most coaches are all about rules and discipline and accountability.
Joe would love to see Arians fine himself $20,000, and then take that cash, buy masks and donate them to a local high school, where a lot of kids could use new ones regularly.
From the memo NFL executive Troy Vincent sent to clubs this morning about proper use of face coverings in the bench area: pic.twitter.com/AijmnBLlhM

— Tom Pelissero (@TomPelissero) September 14, 2020