Mirror Time For Bruce Arians
September 14th, 2020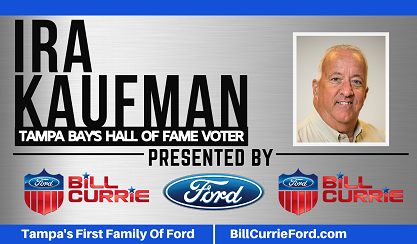 BY IRA KAUFMAN
Mike Edwards is going to get his butt chewed out royally this week. It's not going to be a pleasant few days for Vita Vea. Tom Brady won't like looking at his film, either.
That's alright because they were among the Buc goats during the Week 1 setback at New Orleans.
Edwards drifted backwards during a Saints kickoff, leading to a critical giveaway. He's now in danger of drifting off the depth chart.
Vea was goaded into an offside flag when the Saints faced a fourth-and-2 situation. That's a rookie mistake, except this is Vea's third pro season.
At times, Brady looked like a 43-year-old quarterback. This team simply can't have that moving forward, but Brady's majestic resume suggests he'll take his frustrations out on the Panthers in Sunday's home opener.
Coaches coach and players play. When things go awry, it's the players who typically take the heat. Most of the time, that's justified.
But when your team leads the NFL in penalties and giveaways in 2019 and you don't clean up your mess in the 2020 opener, that's on this coaching staff, too.
The men and women helping Bruce Arians implement discipline and focus need to doa better job.
Since the start of last season, Tampa Bay has turned the ball over 44 times compared to 8 for New Orleans. That numbing disparity is all the Glazers should be thinking about.
Jameis Winston is wearing a different uniform, yet the Bucs are still sloppy. Tom Brady is under center, yet Tampa Bay was just victimized by another pick-6. Janoris Jenkins said he jumped the out route because he knew Tampa Bay's tendencies from last season.
Isn't this a new year?
Special teams play was a major issue for the 2019 Bucs, yet we just witnessed the inexcusable Edwards gaffe, a blocked FG try and Deonte Harris ripping off long punt returns.
Arians has a reputation as an equal-opportunity holy terror for accountability. The lone exception was his teflon treatment of Winston for most of last season — until Arians couldn't stomach the mistakes anymore.
Now Arians must turn his glowering gaze to a staff charged with assimilating all this talent into a cohesive unit. There's a long way to go.
Start with Tampa Bay's underperforming special teams, then move on to pre-snap penalties and pass interference calls.
And while you're at it, turn up the heat on Donovan Smith. Remind him veteran option Joe Haeg is waiting for his opportunity to protect Brady's blind side.
Arians Vs. The Numbers
Buc fans are understandably fed up with this appetite for self-destruction. Since 2009, the Bucs have reeled off 50 games with at least three giveaways. They've won six of 'em.
While it's foolish to read too much into one downer, let's realize the Saints can play a lot better as well. Drew Brees and Sean Payton both used the word "awful" to describe the New Orleans offense.
Heading into Week 2, the Buc offense needs more smarts and more physicality. Three giveaways and 103 yards in penalties will get you beat most of the time — especially against a club as solid as the Saints.
This is the week Arians needs to ramp up the pressure on Byron Leftwich, Clyde Christensen and special teams coordinator Keith Armstrong. Then he needs to lower his mask and look at himself in the mirror.
He needs to acknowledge he has won only 23 of the last 52 games he has coached. This hospitality has to stop now, before the Bucs dig their usual September hole.
One crisp win would change this narrative in a major way. The time is now. All-in applies to coaches as well as organizations.
Let's see this sense of urgency we've heard so much about. And let's remember the immortal words of Yogi Berra, who once proclaimed: "It gets late early out there."