Massive Bounceback
September 20th, 2020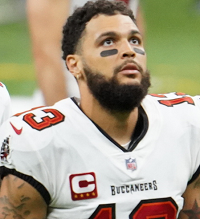 Mike Evans went from two yards receiving last Sunday to 104 today.
His effort was desperately needed with Chris Godwin out, and the greatest receiver in Tampa Bay history stepped up.
Evans had 5 catches for 91 yards and a touchdown in the first half, which really set the tone for the Bucs and certainly helped open up the Panthers defense and hinder their confidence.
Evans had a deep catch-and-run, and some very tough yards underneath on third downs — the kinds of balls you might have thought would go to Rob Gronkowski.
Joe's just dropping appreciation for Evans here, who didn't have Godwin around to take away some of his double teams. Evans set the tone early and it was critical to the victory, especially since the Bucs offense went turtle mode late before Leonard Fournette exploded.