Joe Thomas, Kurt Warner & DeAngelo Hall Peg Bruce Arians For 2020 Coach Of The Year
September 1st, 2020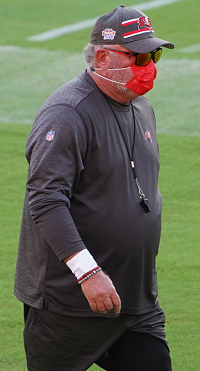 If the Bucs don't have a winning freaking record this year, Joe might have to go vegan, give up beer and actually take a day off — before returning to the keyboard to demand a new Bucs regime.
The Tampa Bay roster is certainly among the top-10 most talented groups in the NFL, possibly top-5 if you're not big on special teams play.
The coaching staff is led by a former two-time NFL Coach of the Year, and the Bucs general manager thinks the entire coaching staff deserves a big fat A+ grade.
It's Year 2 of the Bucco Bruce Arians regime, so a lot of people believe the learning curve is over. The turnover machine was unplugged, and now it's time to showcase Buccaneers greatness.
Count Kurt Warner, Joe Thomas and DeAngelo Hall, three former NFL superstars, among the believers.
Each chose Arians to win NFL Coach of the Year honors this season in a feature for NFL.com. In fact, Arians was the consensus pick by a panel of 35 NFL Media analysts, edging Bills head coach Sean McDermott by one vote.
Don't get confused. Coach of the Year is a slightly political vote; it's partially based on perception of the team in the summer versus how it finishes the season. Regardless, Arians won't win Coach of the Year (voted on after the regular season only) if the Bucs finish 10-6 and come in second place in the NFC South.
That won't be good enough. So Warner, Thomas and Hall seem to think Arians will have the Bucs at 11-5 or better, or at least winning the division at 10-6.
From Bucs fans and national analysts, it's a very high bar for Arians this season. Rightfully so.
The head coach is aware of it, and he certainly knows becoming a three-time Coach of the Year — for three different organizations — might help land him in the Hall of Fame one day.
Joe realized over the past four months that Joe is completely exhausted by incessant Bucs losing. Only three NFC teams are riding three or more consecutive losing seasons. Yeah, the Bucs are one of them.
It's time to win. It really is. Joe doesn't give a crap if Arians is Coach of the Year. Just end the fans' suffering and find your way to the playoffs in a conference that now allows 7 of 16 teams into the postseason party.