"It's An Absolute Travesty The Way We Run The Ball"
September 15th, 2020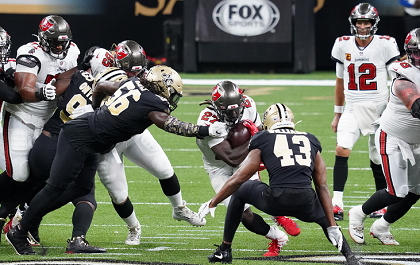 Why is a savvy, seasoned and sensible former Buccaneer detailing a failure of the Buccaneers coaching staff?
Joe well let the guy explain in his own words. Former Tampa Bay tight end Anthony Becht passionately ranted on WDAE radio this week about a run-design flaw he says is a recurring theme.
"As far as the running game goes for the Buccaneers, again, I think it's an absolute travesty the way we run the ball," Becht said. "I hate the scheme that we run. We always bring a receiver inside. We always tell exactly what we're going to do. Half the time we brought a receiver inside, he blocked the guy that he was running in with. He's supposed to be a guy that's supposed to dig out the safety that's in the hole, and sometimes the safety didn't come down until the receiver came in. So it's a telltale sign. I talked about it last year. It's gotta change. Spread things out. Move it out. I want to see us run the ball when we have four guys spread out and let the line open up the box a bit. But they continue to run into a circle with a square peg. It just doesn't make sense to me."
Becht was not down on Ronald Jones' performance against the Saints. He sees "too many bodies in the box" and wants the Bucs to feed the run off the pass far more than they do.
Joe agrees. Frankly, when you pass as prolifically as the Bucs do running should be a lot easier. Remember Leonard Fournette crowing about running into less-stacked boxes in Tampa? On Sunday, he had five carries for five yards.
Joe likes the example of the 2019 Chiefs. Subtract the Patrick Mahomes scrambling and their nothing-special running backs group averaged more than four yards per carry, a half-yard more than the Bucs. And they went out and drafted a running back in the first round.
This Bucs team should be an improved rushing team. Plenty of time to fix that for Sunday.