"He Looked Old And Immobile"
September 16th, 2020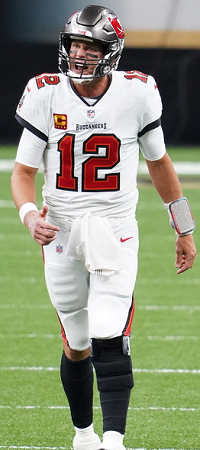 Why is a dear old friend of Bucco Bruce Arians, a guy who likes the Bucs, coming down so hard on Tom Brady.
Man, Bucs fans sure are learning the dark side of being a hyped team; when you look bad on opening day with a 43-year-old quarterback, the analysts are going to be ruthless.
Tiki Barber was a three-time Pro Bowler and Arians was his babysitter as a kid, as Arians was close friends with Barber's dad.
Speaking on CBS Sports Radio after the Bucs-Saints game, Barber said Brady looked like what you don't want in a quarterback.
"He looked the part for a series and then kind of looked very average, and I hate to say it, and I haven't said it in three years since he turned 40, he looked and immobile and not able to get around," Barber said.
Barber added that it was hard not to feel let down.
"Eventually [as a player], you just walk off a cliff," Barber said. "You're just done. You're great, and then you're just done. I don't believe it [with Brady], but man, it didn't look like he had anything that much left for most of that game."
For those who think Barber is anti-Bucs, Barber told his audience that Arians is his favorite coach in the NFL, but he also added that Arians is asking Brady to do to much of what he's not good at.
Obviously, Joe believes this is an overreaction — unless it isn't.