Gameday Tampa Bay!
September 27th, 2020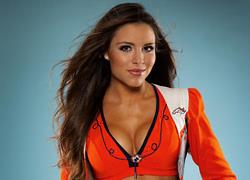 Game 3
Bucs (1-1) at Broncos (0-2)
Kickoff: 4:25 p.m.
TV: WTVT-TV Channel 13, NFL Sunday Ticket Channel 716.
Streaming: Fans may stream the broadcast from Buccaneers.com or on a mobile device using one of the following: Buccaneers Official app, NFL app,  FOX Sports Go app or Yahoo! Sports app. Geographic restrictions apply.
Radio: Buccaneers Radio Network WXTB-FM 97.9 in the Tampa-St. Petersburg region; 97.9 FM ESPN Radio in Tallahassee (Transmisiones de radio en español en WTMP-FM 96.1 y WMGG-AM 1470 en Tampa); SiriusXM Channel 82.
Weather: Bucs players are going to be loving this Denver weather, if AccuWeather.com is accurate. At 2:25 p.m. Denver time, the kickoff of the Bucs-Broncos game should be played at 66 degrees under partly sunny skies. Being Denver, the temperature change is supposed to drop rapidly as it will be 59 by game's end. (By the time the Bucs' flight back to Tampa departs, it is expected to be 50).
Odds: Per BetMGM as of 5 p.m. Saturday, Bucs -5.5; O/U 43.
Outlook: Good teams show no mercy on wounded animals and there may be no other team outside of the 49ers that is beat up as bad as the Broncos. Still, Joe is nervous as can be about this game. Despite the injuries to key personnel on Denver's roster, this team will be fighting for its season. In recent years, it is almost an impossibility for a team that starts out 0-3 to make the playoffs. Denver was in both games it played and one could argue botched clock management cost them a potential win over Tennessee to open the season. And it is not like the Broncos don't have talent. Jerry Jeudy and K.J. Hamler, rookie receivers that were drafted high this spring, have blazing speed. Melvin Gordon still has gas in the tank and this Noah Fant is a damned good tight end. Broncos head coach Vic Fangio is an excellent defensive coach. No, despite all the injuries, Joe doesn't expect Denver to roll over and play dead whatsoever. Even with Chris Godwin back and Leonard Fournette showing he needs more touches, Joe expects a hard-fought game. Barring turnovers, yes a Bucs win. Joe does not expect this to be an easy win and in fact, Joe would not be surprised if it is a one-score game.
Trinkets: QB Tom Brady passed for 217 yards with a touchdown against an interception in Week 2. Has 10 touchdowns against zero interceptions in his past five starts at Denver. Brady has three or more touchdown passes in four of his past five against Denver … RB Leonard Fournette rushed for 103 yards and 2 touchdowns last week, his 9th-career 100-yard rushing game. Set career highs in rushing yards (225) and scrimmage yards (245) in his last game against Denver in September 2019 while playing for the Jags. … RB Ronald Jones had a rushing touchdown in Week 2. … RB Shady McCoy had five receptions in Week 2. He has 170 scrimmage yards (85 per game) in two career games at Denver … WR Mike Evans led the Bucs with seven catches for 104 yards and a touchdown last week. He is one of three NFC wide receivers (DK Metcalf and Calvin Ridley) with a touchdown catch in each of the first two weeks of the season. Evans is looking for his fourth game in a row with receiving touchdown. … WR Chris Godwin has five or more receptions in four of his past five road games. … TE Rob Gronkowski has 26 catches for 357 yards (89.3 per game) and three touchdowns in his last four games against Denver. … LB Lavonte David had nine tackles, a forced fumble and a fumble return in Week 2. David is the only player with 20 or more forced fumbles (22) and 15 or more fumble returns (15) since 2012. David had 10 tackles, 3 tackles for loss and an interception in his only career game at Denver in December 2012 which was his rookie season. … LB Devin White had a career-high 15 tackles in Week 2, his fourth career game with 10 or more tackles. … LB Shaq Barrett had 14 sacks and 25 tackles for loss in four seasons with Denver (2015-18). Shaq has 9.5 sacks in his past nine road games. … LB Jason Pierre-Paul had a sack and a fumble return last week. … DT Ndamukong Suh had two sacks in Week 2, his sixth-career game with two or more sacks. … Rookie S Antoine Winfield had 11 tackles, his first career sack and his first career forced fumble last week against the Stinking Panthers. … QB Jeff Driskel passed for 256 yards and 2 touchdowns with an interception last week in Denver debut. Driskel has 10 touchdowns (9 passing, 1 rushing) against 6 interceptions in 8 career starts. … RB Melvin Gordon led the team with 84 scrimmage yards (70 rushing, 14 receptions) and had a touchdown catch last week. He had 138 scrimmage yards (84 rush, 54 receiving) and a touchdown run in his only career game against the Bucs in December 2016 while playing for the then-San Diego Chargers. Gordon has 6 touchdowns (5 rushing, one receiving) in 4 career games against NFC South teams. Gordon is 1 of 3 in the AFC (Nyheim Hines and Kareem Hunt being the two others) with both a touchdown on the ground and through the air this year. … RB Royce Freeman has at least 45 scrimmage yards in 3 of his past 4 games facing NFC teams. … WR Jerry Jeudy, a rookie, had 4 catches for 62 yards last week. He leads all AFC rookie receivers with 8 catches this season and ranks second with 118 receiving yards. … WR Tim Patrick has at least 75 receiving yards in 2 of his past 3 games against NFC. He has at least 4 catches in 2 of his past 3 home games. … Rookie WR K.J. Hamler had 48 yards receiving last week in his NFL debut. … TE Noah Fant had 4 catches for 57 yards and a touchdown in Week 2. He is 1 of 3 tight ends (along with Travis Kelce and Jonnu Smith) with a touchdown catch in each of first 2 games of season. … S Justin Simmons had 8 tackles, 2 passes defensed, an interception and a tackle for loss last week. … S Kareem Jackson had a fumble recovery in Week 2. He has a pass defended in 2 of his past 3 home games. … DT Jurrell Casey had a pass defended last week and is tied for the NFL lead among defensive linemen with 3 passes defended this season. He is looking for his third in a row against Tampa Bay with at least two tackles for a loss and a sack. Casey is also shooting for his fourth game in a row facing an NFC South team with a sack. … DT Mike Purcell had his second-career sack in Week 2. … DE Shelby Harris had a forced fumble and a tackle for loss last week.
The last word: Expected Broncos quarterback Jeff Driskel, who came in to relieve injured Drew Lock last week for Denver, has as many touchdown passes as Dwayne Haskins, Kyler Murray, Dak Prescott, Philip Rivers, Deshaun Watson and Carson Wentz. Driskel also has twice as many touchdown passes as Cam Newton and Teddy Bridgewater.