Fake News Tampa Bay
September 16th, 2020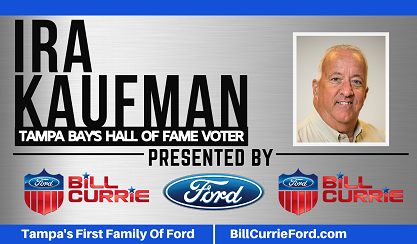 BY IRA KAUFMAN
The quarterback whisperer is growling.
Bruce Arians is back in his natural habitat, demanding accountability from every player on the depth chart. Some national media pundits are shocked that Arians had the audacity to call out Tom Brady after Sunday's Week 1 loss at the Superdome.
Get over it.
Brady is rougher on himself than Arians will ever be. Besides, what did Arians say that was wrong?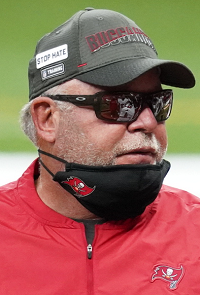 "He knew he didn't play very well," Arians said. "It's not what he expects from himself, nor do we expect."
When Buc fans woke up Monday morning, they were treated to the spectacle of ESPN commentators suggesting dissension is brewing at One Buc Place. Some have even concluded that Brady is done, finished as an effective NFL quarterback.
One poor game. That's all it took for some analysts to turn on Brady, the same guy they were heralding as a Tampa messiah six months ago.
Arians wants a better performance from No. 12, and he's not afraid to say so. He's surely not the first pro head coach to demand more from a quarterback.
Bill Parcells used to rip Phil Simms in front of the entire team — while the game was in progress. Simms would come off the field after throwing a TD pass, only to find Parcells belittling him for throwing to the wrong receiver. Vince Lombardi didn't coddle Bart Starr and Don Shula didn't think twice about getting on Dan Marino.
Brady's a big boy. He can take a little heat. Besides, he knew Arians' reputation as a straight shooter before he packed his bags for Davis Island.
"It was a tough flight home," Brady acknowledged on Westwood One Radio.
Welcome Back, Bruce!
Once Brady landed, Brett Favre decided to take off, weighing in on this fake controversy by suggesting, "The last person you want to call out after the first game of the year is Tom Brady."
Buc fans should welcome the return of the real Bruce Arians. For most of last season, he was an impostor when it came to assessing his quarterback in public. He made so many excuses for No. 3, you'd think Jameis Winston was robbed of a Pro Bowl spot.
Those coddling days are over, and not a moment too soon.
Arians was unsure Winston could handle public criticism, so he blamed many of those 30 interceptions on receivers running poor routes or a protection breakdown. After the season ended with back-to-back losses amid a flurry of giveaways, Arians ended the charade and took the gloves off.
He's not putting them back on.
Brady's not the only Buc player who disappointed Arians on Sunday. He called it like it is concerning Donovan Smith's struggles and derided special teams play.
That's called honesty, not dissension.
"Sometimes, we don't like to hear the honest truth," says Hall of Fame quarterback Kurt Warner, "but eventually we appreciate that from a coach."
Are we really supposed to believe Tom Brady will sulk because Arians said the Bucs need more from him? Brady doesn't need anyone else's evaluation but his own for motivation.
"I just made some bad, terrible turnovers and it's hard to win turning the ball over like that," he said. "I obviously have to do a lot better job."
History suggests he will, starting with the home opener against a young Carolina defense.
If we're still talking about Brady's issues next week, that's a different story. But for now, he deserves the benefit of the doubt.
Meanwhile, there's no turning back for this head coach. The stakes are too high, so this is the Bruce Arians we'll see all season … direct and brutally honest. The Glazers are surely saying, 'Right on!'
Don't worry about Brady's feelings. Those six rings prove he's tougher than the rest.
Dissension in Tampa? Fake news.
Ginny: So glad you had a good experience with Bill Currie Ford and GM Sean Sullivan. Nobody does it better. https://t.co/7CxgbOFkWp

— Ira Kaufman (@IKaufman76) September 15, 2020