Defensive Rookie Of The Year Candidate Emerges
September 20th, 2020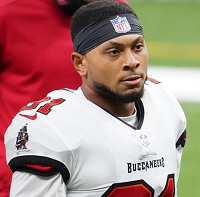 What a freakin' all-around performance for Antoine Winfield, Jr.
After two games, the only new starter on the Bucs defense looks exactly like the plug-and-play stud safety Bucs fans dreamed of on Day 2 of the NFL Draft.
Winfield already has displayed his speed and quickness, showing the game isn't too fast for him. And his sack/strip today against the Panthers was evidence of his excellent awareness and instincts.
Tack on Winfield racking up eight solo tackles and three assists today, and a QB hit, and Joe thinks Winfield has to be considered a defensive rookie of the year candidate.
For Joe, what makes Winfield so exciting is that he has not slowed down (and will not) the Bucs' maturing defense. Todd Bowles isn't going to have to dial anything back to accommodate the rookie.
What is this kid going to look like when he gets more experience? The Panthers have a talented trio of receivers and their offense certainly isn't bad.
If Winfield hauls in a pick next week and plays well overall, Joe might almost apologize for the mean thoughts of Bucs officials after Tampa Bay drafted safety Justin Evans in 2017.