Deeper Look At Penalties
September 16th, 2020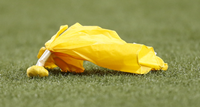 Joe already noted that on Sunday night, former NFL executive Scott Pioli stated there are deeper problems for the Bucs than park-violating, home-invading, NFLPA-ignoring Tom Brady and his picks.
Tuesday Pioli took to the airwaves of "Good Morning Football," seen and heard weekday mornings on NFL Network. There, Pioli went a little deeper
Penalties as a major concern for Pioli along with downright dumb plays. Specifically, Pioli mentioned the blocked field goal and the dumbarse stunt by Mike Edwards on special teams.
And Pioli was right. Those two plays cost the Bucs 10 points. What was the margin on the scoreboard? It was 11 points. So the Bucs were right in the game, perhaps with a chance to win, even with Brady's picks.
The penalties alarmed Joe. Yes, the Bucs led the NFL in penalties last year. And they lead the NFL in penalties after Week 1. Stretch that out to 16 games and it comes out to 144 penalties, 11 more than last season.
So Joe wondered if this was a Bruce Arians thing or a Bucs thing. Off to the internet Joe went.
And it seems this is a Bucs thing. When Arians coached at Arizona, he pretty much had the same coaching staff.
The Cardinals, with Arians, were one of the least penalized teams in the NFL. Certainly they were more often in the bottom half of the league than the top half.
And in 2015, the Cardinals had the third-fewest penalties in the NFL. (The Bucs that same year had the second-most.) There are still a handful of players on this year's Bucs roster from the 2015 season.
Is this penalty thing just a Bucs thing or are there enough players on the team that don't (and never will) have it in them to stop making bonehead penalties?
Meanwhile, you may view Pioli's remarks about the Bucs in the NFL Network video below.
Friend of the show @scottpioli51 joined #GMFB to talk about Tom Brady and the Buccaneers, what makes the Jaguars so unique, Cam Newton's debut with the Patriots, DeAndre Hopkins and more! pic.twitter.com/yWbq87X4C2

— GMFB (@gmfb) September 15, 2020