Data Magnifies Bucs' Pass Blocking Woes
September 15th, 2020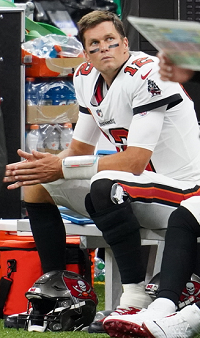 One hidden ugly on film of Sunday's Bucs-Saints game was LeSean McCoy getting blown up badly in pass blocking on a blitz up the gut.
But official NFL NextGen Stats data shows it wasn't McCoy struggling.
In the NFL, if your quarterback is getting pressured steadily, then you're typically in for a long day that includes turnovers. (Especially if your run game is subpar.)
NextGen stat technology tracks exactly where pass rushers are in relation to quarterbacks during each play, and then the computers add up the "pressure rate" allowed by the offense.
On Sunday, the Bucs were eighth-worst in the NFL at allowing QB pressure (29.7 percent of the time). And every team that allowed more than the Bucs also lost its game.
Coincidence? No.
One point of note, the Panthers attempted 34 passes against the Raiders on Sunday and Teddy Bridgewater was sacked just once and only was hit three times, twice by former Bucs pass rusher Carl Nassib.
The top 8 offenses in pressure rate allowed in Week 1 all lost (combined 0-8 record):

Jets – 44.7%
Cowboys – 40.5%
Eagles – 34.0%
Bengals – 33.3%
Vikings – 33.3%
Dolphins – 32.3%
Falcons – 32.1%
Buccaneers – 29.7%

— Next Gen Stats (@NextGenStats) September 14, 2020