Bruce Arians Reviews The Offensive Line, Calls "7 Bad Plays" For Tristan Wirfs
September 16th, 2020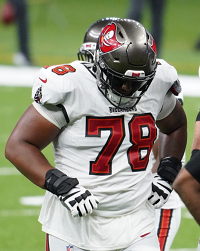 The Tom Brady freaker-outers will gulp down this and enjoy it, as will the legions of Bucs offensive line critics.
The man running the Tampa Bay football show, Bucco Bruce Arians, spoke up about his offensive line via Bucs Total Access at the team's website.
If 90 percent effective is worth an A-grade, then Tristan Wirfs got an "A" for his rookie debut Sunday at right tackle.
"I think out of the 70 plays he played, he only had about 7 bad plays," Arians said of Wirfs. "He did give up 1 hit, and Cam Jordan's a heck of a player. But overall, he did an outstanding job in the running game."
Arians noted that Wirfs was "really solid overall" and the head coach heartily praised the interior offensive line. Of course, Arians was down on Donovan Smith's performance, which is old news by now.
Interestingly, Arians talked about protection in general and said, "Tom's gotta get the ball out of his hands a couple times." Thankfully, the freaker-outers in the national media didn't hear that, or they would have run to their keyboard to talk about Arians throwing Brady under the Jameis Winston bus.