Bruce Arians: "It's Probably Going To Take Three Or Four More Weeks"
September 24th, 2020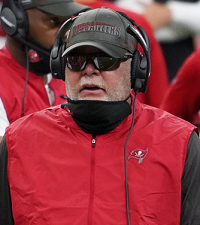 Bucco Bruce Arians got a little candid talking to one of his great friends.
Joe's referring to the Tampa Bay head coach sharing a little time with Hall of Fame general manager Bill Polian on SiriusXM NFL Radio last night. Polian was Arians' boss in Indianapolis, and sometimes Arians calls him "Coach."
Polian asked Arians a question a lot of Bucs fans want answered. How much longer does he think it will take to get the offense in sync and firing on all cylinders?
Arians actually had a quick answer.
"It's probably going to take three or four more weeks," Arians said. "You know, [Tom Brady] saw one defense, our defense, for three weeks. And then he goes up against the Saints, which is different. Carolina is different, totally different. So he's seeing different defenses. So it's just a matter of once we get through the gamut of how many times we play [against] Cover-2, quarters, whatever a team's base [is], 3-4, 4-3, then we get to repeat against a team. I think that's when he's going to throw his best, when we get to repeat against the same defense."
Very interesting take by Arians, who likely is seeing Brady's relative discomfort compared to the command he expects will come later.
Still, Joe is certain the Bucs have enough talent and synergy in the offense to outscore the decimated Broncos, which still have a few studs on defense, including free agent pick-up Jurrell Casey along the D-line.