Bruce Arians Acknowledges Interest In Clay Matthews
September 11th, 2020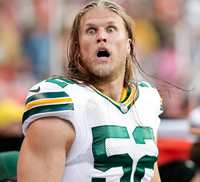 The Buccaneers' collection of big names could get bigger, but it would take a problem or a fresh awakening.
That was the message from Bucco Bruce Arians today during his noon chat with Joe and local reporters.
The Sage of Tampa Bay Sports, Ira Kaufman, asked Arians about whether he was interested in former Pro Bowl 3-4 linebacker Clay Matthews, who racked up eight sacks last season for the Rams.
Arians said Matthews was talked about at One Buc Palace but cited money as a problem. It's common knowledge the Bucs are squeezed very tight up to the salary cap. It's unclear how much Matthews wants for his 12th NFL season.
Arians also said he likes his current collection of backup linebackers more than 34-year-old Matthews and that signing Matthews would mean the loss of a special teams player because a grizzled veteran wouldn't play there. But Arians' voice perked up saying he'd definitely be interested in Matthews if the Bucs had an injury.
Like with nearly everything in the NFL, today's truth is tomorrow's fiction. So how the Bucs feel about Matthews could change a lot after their first two games.