Bolts Head For Edmonton, But Where The Hell Is Stamkos?
September 2nd, 2020
Podcast (toddcast-todd-wright-podcast): Play in new window | Download | Embed
Subscribe: RSS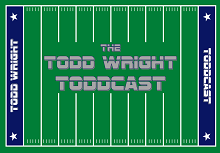 In Episode 119 of The Todd Wright TODDcast, Todd discusses the current state of the Stanley Cup Playoffs. Unlike three other teams up 3-1 in the conference semifinals, the Lightning finished the job in five games to advance to the NHL's Final Four. That said, the Lightning still refuse to tell anyone the physical and geographical status of their so-called captain and the silence is deafening.  The Todd Wright TODDcast is presented by
Brandon Legal Group
and
Papa John's
.
.
PRESENTED BY