Arians On Fumble: Blame RoJo
September 21st, 2020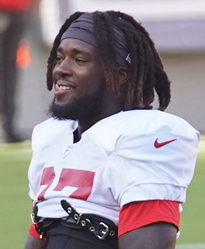 Bucco Bruce Arians used to be running backs coach for the Chiefs back in the late 1980s and early '90s.
He had some strong backs under his tutelage, including Pro Bowler Christian Okoye and current Bucs running backs coach Todd McNair. So Arians knows all about running backs technique.
This afternoon, Arians was asked about the fumbled exchange between Tom Brady and Ronald Jones in the second half against the Panthers. The Panthers recovered after Brady himself dove head first into a sea of giant bodies. Thankfully, Brady didn't get hurt.
As for the fumble, Arians confirmed what announcer Mark Schlereth said on the FOX broadcast; Jones was impatient and didn't get his right arm up. Instead his elbow was out and it messed up the handoff.
"He took off before Tom was ready to hand it and his elbow was down," Arians said. "It's all patience and it's all on Ronald."
Another lesson learned, hopefully, for 23-year-old RoJo. Joe's confident RoJo is now the Bucs' No. 2 running back behind Leonard Fournette, regardless of Arians still endorsing RoJo as his top dog today.