41 Playoff Starts. Zero Shutouts.
September 7th, 2020
Podcast (toddcast-todd-wright-podcast): Play in new window | Download | Embed
Subscribe: RSS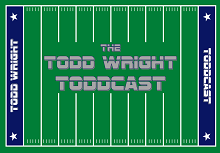 In Episode 120 of The Todd Wright TODDcast, Todd exposes a flaw in the resume of Lightning goaltender Andrei Vasilevskiy and why his name is not going on a Stanley Cup until he elevates his postseason performance. The Todd Wright TODDcast is presented by
Brandon Legal Group
and
Papa John's
.
PRESENTED BY