10 Things To Keep An Eye On In Bucs-Saints Game
September 13th, 2020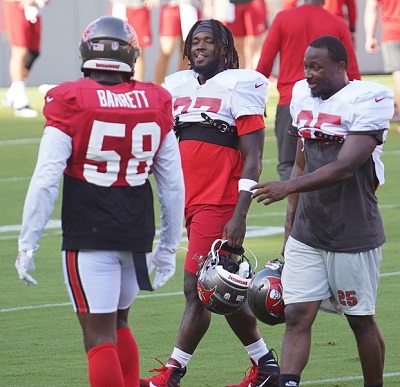 Joe's going rapid fire here:
*Bring on a monster consistent effort from Donovan Smith! He can do it. Joe doesn't want to see Smith extend his arm to help Tom Brady off the turf.
*Cut the damn penalties. The Bucs led the NFL in penalties last season with 8.3 per game. And they had 18 accepted penalties in the final two games last season, both at home. That's on the coaching staff and Joe wants to see no more than 6 today.
*Bucs officials tell us Ronald Jones is ready – ready to build on his strong finish in last season's final two games. It's his job to lose. Will he keep it or lose it today with Leonard Fournette breathing down his neck? Last year in two games against New Orleans, Jones totaled 13 carries for 48 yards.
*If you were studying the Bucs defense, where would you target? Sean Murphy-Bunting and rookie Antoine Winfield Jr. likely will be the beneficiaries of Sean Payton and Drew Brees dissecting them in the film room for the last two months. Joe's curious to see how both those Bucs DBs might be set up in the first half for plays in the second half. Hang in there, guys!
*Kicker Ryan Succop. Enough said.
*Gronk's blocking. Can he return to being one of the legendary tight end blockers? Today might be as healthy as he'll be all season. Joe's very eager to see this. How great would it be to see the Bucs finish off this game on the ground behind Tristan Wirfs and Gronk.
*Longtime Tom Brady observers will tell you he'll target most who he trusts most. Of course, the game dictates a lot, but Joe's eager to see who gets those targets in Game 1.
*New team, new targets, new playbook, new feel. Joe does not expect a razor sharp Brady today, but he still can't throw picks. An interception-free game would be a fantastic sign. Joe prays to the football gods that Brady doesn't toss two picks in a loss and leave his teammates wondering.
*Captain Devin White is ripe to make the leap that most great players do from Year 1 to Year 2. It should show up a bit today, including on the blitz.
*Jason Pierre-Paul and Shaq Barrett: Joe wants to see these beasts set the tone early in a big way.
BE THERE!