What Donovan Smith Can Expect From Tom Brady
August 2nd, 2020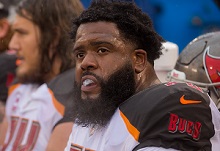 Left tackle Donovan Smith is best known for three things: his stunning durability, eye-popping athleticism for a 330-pound man and occasionally not finishing plays, which angers many fans.
The latter improved last season, even though his position coach said in January that steady performances elude Smith.
"I think consistency. You know, [Smith] does, at times on tape, he does some things that you sit there and say, 'Man, that's what we're looking for. That's what the left tackle should do.'" O-line coach Joe Gilbert told Buccaneers Radio in January. "And then there's other plays where he does it once but not the second time. And that's what you try to continue to instill in every player. But you know he can do it because he's put it on tape. Now it's just a matter of being, you know, 'Hey, if it's 65 plays, be consistent for 65, not 60.' I think that would be the No. 1 thing."
So how might Tom Brady react to Smith's inconsistency?
It seems Brady's longtime offensive line coach in New England, Dante Scarnecchia, offered a clue yesterday on SiriusXM NFL Radio.
"You block him forever," Scarnecchia said of the Patriots steady order to their O-linemen. "That's the approach we've always taken there. You block him, man, you gotta block him forever. … Coach the hell out of them through the whole practice and through the whole season."
The way Scarnecchia passionately talked about that philosophy, Joe just knows Brady has heard "block him forever" about 7,000 times in his career. If one 77-percent effort play shows up on film from Smith, Joe suspects Brady will start barking that credo in a way Smith has never heard from his QB.