Tom Brady And John Kennedy
August 26th, 2020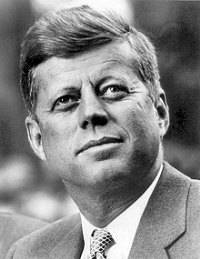 When Joe reads and sees and hears about all the stories in the past couple of weeks about park-violating, home-invading, NFLPA-ignoring Bucs quarterback Tom Brady's effects on making the Bucs a better team, Joe is reminded of a quote from our 35th President of the United States, John Kennedy.
"No American is ever made better off by pulling a fellow American down, and every American is made better off whenever any one of us is made better off. A rising tide raises all boats."
And it seems that is what is happening with the Bucs. As we stand in the middle of the second week of a convoluted training camp, you can see with your own eyes how Brady has rejuvenated the Bucs.
Scotty Miller has made a jump. O.J. Howard is mentally sharper, so his coach Bucco Bruce Arians claims, and has at times dominated the talented Bucs defense.
Joe has seen Mike Evans run and jump on top of Cam Brate for making a good catch (with Brady in the background jumping in the air). And of course, Sunday when Chris Godwin made a sick catch of a Brady pass, the 43-year old quarterback, who has seen and won it all, jogged down the field to hug him.
Shoot, even the defense hoots and hollers and struts when they stuff a run or shut down Brady, as if it's a big third down in the fourth quarter of a close game.
Albert Breer of SI.com spent two days around One Buc Palace and he too was struck by the collateral fortune of signing the six-time Super Bowl winner.
@AlbertBreer: 1) Tom Brady was better Monday than Sunday. But his overall impact is obvious. Coaches have seen it with rising confidence of young guys like OJ Howard, Scotty Miller, and Justin Watson. Some guys have been surprised how normal he is. That he's raised the bar is not surprising.
In past training camps, players have just gone through the motions. It's necessary drudgery and if you can just plow through it, the regular season will arrive sooner than you expect.
This summer? Joe isn't sure if it has been the lighter training camp or no preseason games or what. It's like a bunch of college dudes playing ball in an empty quad or something. Guys are working, sure. But they are having a blast. And any time someone makes a play, his teammates make sure he knows he did a good job.
So could it be just by the street cred that Brady brings to the Bucs, he's is helping lift the tide on all boats?