Time For Tough Love
August 10th, 2020
BY IRA KAUFMAN
It's been almost five months since the goat packed his bags for Tampa and we've yet to see the first eruption of Mount Brady.
It's coming.
The words will soon spill out like molten lava, directed toward a lazy teammate, perhaps even a misguided coach. Yes, there's a new sheriff in town, armed with a razor-sharp mind, a golden resume and a salty tongue.
If things aren't done to Tom Brady's specifications, the F-bombs will flow — and Bruce Arians would have it no other way.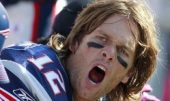 During his 20-year reign in New England, Brady won six Super Bowls and the hearts and minds of everyone in the organization. He did it by believing in himself, then passing on that faith to his compatriots.
He did it with a wink and a smile. If that didn't work, Brady tried intimidation.
"I know how he is," said Julian Edelman, Brady's most trusted receiver during the past six seasons.

Edelman's comments came four years ago on Boston sports radio. "He would be a little more scary if he wasn't yelling at me because if he yells at you, then he says he loves you. So he really loves me I guess. I let him take his steam off. I'll be that punching bag as long as it makes him feel good."
Brady's new punching bag will soon be revealed.
Over the years, Brady's rants have gone viral. Whether he's lashing out at receivers in Jacksonville or berating offensive coordinator Josh McDaniels at Buffalo, Brady doesn't mind voicing his frustrations.
"You try to do the best you can," he says. "You know the players and the personalities as much as you can. We spend a lot of time together. I think everybody is open to constructive criticism. I think there's an element of emotion that you have on the football field. If you don't play with emotion, you're probably going to get beat."
A rant is only as effective as the person doing the yakking.
When Jameis Winston spoke about eating a win before a 2017 game in New Orleans, bewildered teammates didn't know what to think. Winston was all fired up, but he lacked a body of work to command everyone's attention.
The Bucs responded by playing sloppy, undisciplined football in a 30-10 setback, falling to 2-6 with their fifth consecutive loss.
When Brady lets loose, he'll have the weight of 249 career wins behind him, by far the most of any quarterback in the league's 100-year history.
While learning about the skills of his teammates in the next month, Brady will also determine some men of stature who can take the heat.
It might be Mike Evans or Ryan Jensen, veterans with enough mental toughness to withstand Brady's daily diatribes without folding.
Free Swinger
If Brady wasn't shy about voicing his frustrations in Foxborough, where winning was as natural as January frost, he's certainly not planning to go silent in Tampa.
If anything, he'll be even more animated and engaged, knowing he is free of Bill Belichick's aura and nearing the end of his playing days.
Brady won't hold anything back … and he shouldn't. If you can't take the heat, get out of the huddle. The man who gives you very little at a podium has been known to give you hell on the sidelines.
In this case, that's a good thing. Buc players have been coddled for far too long.
It's time for some tough love, and nobody does it better than No. 12, who was once asked about his penchant for public beratement.
"Well, I do that quite a bit in practice," Brady said. "I speak in a lot of meetings, on practice fields, in the games, in the huddle."
Soon, Buc players will be taking the field, led by a 43-year-old drill sergeant. Grab your helmets, shoulder pads and mouthguards.
Leave the ear muffs at home.


Bill Currie Ford
813-872-5555
5815 N. Dale Mabry Hwy.
Tampa, FL 33614
BillCurrieFord.com