Superior Review For Brady
August 28th, 2020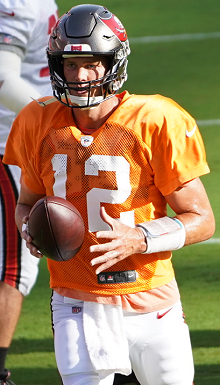 So how did Tom Brady look today at the team's intrasquad scrimmage.
Joe's gotten that question a lot today after the spirited game-like session at the Den of Depression.
For now, let's hear what Bucco Bruce Arians thinks.
"I thought Tom was very, very efficient and, you know, good job of leadership. I think when you get the first long drive of the year, guys start dragging. And he got their ass in the huddle and got'em rolling, and keeping under the 25-second, 40-second clock pretty good; we weren't close at all [to delay of game]. He was commanding that pretty good," Arians said.

"Overall I thought he had a hell of a day. Overall I was pretty pleased.

"I think that [long opening] drive and another drive showed we're not quite in game shape coming out of it. The field was very soft and mushy; we're used to a hard, fast surface over here at practice. So it's a little different feel to it."
Arians later said he thought Brady would "snap a little bit harder" on fellow offensive players who were dragging in the heat. "I didn't think it was that hot for us to wilt a little bit in the heat," he added.
Regardless, Arians said overall, Brady was everything he expected from the NFL's most successful QB.