Reps, Reps & More Reps
August 18th, 2020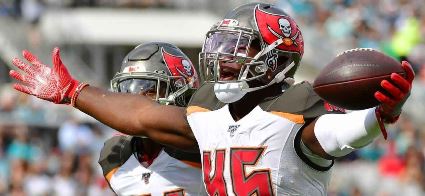 Yesterday, Joe had a chance to ask linebackers coach Larry Foote about the coverage skills of one of his top students, 2019 savior linebacker Devin White.
The No. 5 overall pick in last year's NFL Draft was excellent against the run and nothing special against the pass. Overall, he had a solid rookie season considering his draft position and an early knee injury.
Joe asked Foote what kind of challenge coverage was for White as a rookie and how much he can improve.
Foote didn't really answer the question but explained that White just needs more time — and to learn from the studs around him.
"Just on the field, more reps, more snaps," Foote said. "He's in there next to Lavonte, who has seen it all. But just experience; you know, he's a humble guy, so he's listening. … I think him and Shady matched up a couple of times [Monday]. Those will be some great matchups, playing some type of running back like that with that skillset. And seeing Gronk, big guy out there and one of the best tight ends. So he's going to get some good reps in practice. He should be ready Week 1."
Joe's excited to see White progress, as most great players do from Year 1 to Year 2. It's a massive key, Joe believes, to a playoff season.
Foote went on to say White can be one of the true greats of the game because he has "that type of talent."