Peter King: Look For Very Part-Time Gronk
August 29th, 2020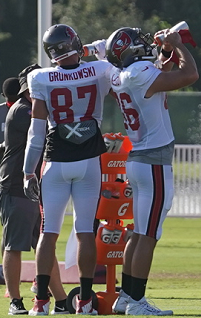 Longtime NFL super insider Peter King is known for pontificating and bloviating at times to his huge NBC audience, but Joe can't ignore the guy since he has talked to all the Buccaneers power players this summer and is well versed in everything Tom Brady.
King was at Bucs training camp for two days early this month, and on Tuesday he joined Pro Football Talk with Mike Florio and Chris Simms and was hit with various follow up questions on the Bucs.
One query was about Rob Gronkowski's role and King said he is confident that O.J. Howard is the tight end the Bucs want to take most of the snaps, followed by Cameron Brate, followed by Rob Gronkowski.
In fact, King speculated that Gronkowski would finish the regular season with only "300 to 400 snaps," an effort to save him for the playoffs while keeping him for full-time red zone work all season.
Joe had to rewind the audio. That is not a lot of snaps at all. That's significantly less than half of what Gronk is used to.
Joe gets the concept of saving one of the best playoff performers in history for the playoffs, but man, this team needs early wins. Keeping a guy like Gronk that buried might backfire.
Still, there is no correct answer. O.J. Howard has never played a full season a Cameron Brate has had injuries the past two years. So maybe saving Gronk is a very wise move.