About Those Slow Saints Starts
August 28th, 2020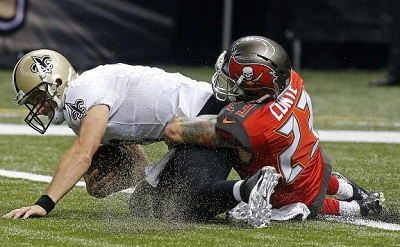 With kickoff in 16 days — sixteen! — Joe is dialed in on all things Saints and devoured every second of the new SiriusXM NFL Radio visit to New Orleans training camp.
One key nugget to the Bucs opening in New Orleans is the Saints' notoriously starting slow at home and losing their home openers.
Last year, the Saints needed a 58-yard field goal at the buzzer to win on opening day in the Superdome against Houston. Then they got blown out by the Rams before settling in to finish 13-3.
In 2018, Tampa Bay dropped a can of whoopass on the Saints on opening day, riding Ryan Fitzpatrick to a 48-40 victory. That Bucs win left the Saints with four consecutive home-opener losses. And then New Orleans squeaked by the Browns a week later and before you knew it they had a 10-1 record.
So why are the Saints not the Saints on opening day?
Drew Brees spoke this week about how he's always been a guy whose arm gets stronger as a season progresses, and the same goes for his mind. The term "midseason form," per Brees, is a cliché that typically applies to him.
Weeks ago, Joe listened to Brees' throwing coach, Tom House, interviewed on the Saints official website. (House also coaches Tom Brady.) House detailed how he and Brees spent virus lockdown totally focused on improving Brees' arm strength. And they got in more work than usual because, per House, he and Brees were holed up down the street from each other.
Per House, Brees came out of the extensive training throwing balls 56 yards with ease and accuracy, something he hadn't been doing previously.
Interestingly, when asked on radio this week about his offseason work, Brees shared little about that strength focus and didn't mention House and their unique work together. It was almost like Brees wants to keep it all very quiet and maybe surprise the Bucs.
Regardless, Brees and Sean Payton have accomplished a lot, but have never quite figured out how to be a great team on opening day.
Hopefully, it's something for the Bucs to capitalize on.