Oddsmakers Disrespecting Shaq
August 25th, 2020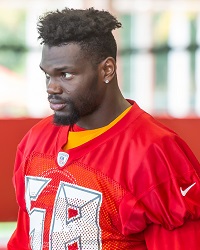 At sportsbooks across the nation (Florida is behind the times), one can place exotic wagers such as who will win NFL Defensive Player Of The Year.
Right now, oddsmakers — and bettors — at one major outlet seem to think 14 defensive players have a better shot at the honor than Shaq Barrett.
That's quite a stunning total for a healthy guy who led the NFL with 19 1/2 sacks last season and is expected to pin his ears back and rush the passer a lot this season thanks to a high-octane Bucs offense.
Hell, unemployed Jadevon Clowney is getting lower odds (25-1) than Shaq (33-1)!
Aaron Donald is the favorite at (7-1) with Joey Bosa behind him at 12-1. Chandler Jones, who Shaq edged for the sacks crown last season,  is at (20-1), as is cornerback Stephon Gilmore, Derwin James, Myles Garrett and Von Miller. And six others, oddsmakers and bettors believe, have a better shot than Shaq.
That's a whole lot of disrespect right there.
These odds are from the DraftKings sportsbook that services bettors within the borders of Iowa, New Jersey, Pennsylvania, Indiana, New Hampshire, Illinois, West Virginia, and Colorado.
Joe hopes somebody passes this on to Shaq, whose fans might want to make a road trip or call a cousin to drop a hundred bucks.
Stephon Gilmore? Really?
Joe supposes a lot of folks see Shaq as a one-year wonder.