O.J. And The One-Football Theory
August 11th, 2020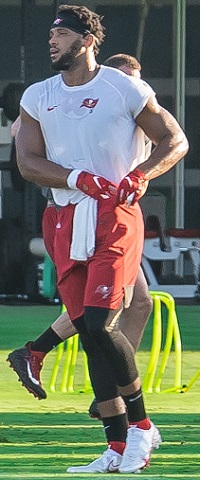 The old Weapons For Winston chant has turned into cries of too many weapons.
It's been a long time already but Joe remains amazed by all the firepower on the Tampa Bay roster. Joe actually needed medical attention after the Bucs drafted two running backs and signed LeSean McCoy, on the heels of signing Tom Brady and Rob Gronkowski.
What team is this?
Logic says one of the powerful weapons assembled won't be used much at all. (Yes, Joe realizes this logic won't be realized by those who believe The Sickness will ravage the Bucs roster all season long).
So who is the odd man out? Who will need a trip to Mons Venus if he desires meaningful touches on Dale Mabry Highway?
On Friday, former Bucs rock star general manager Mark Dominik told the world, via SiriusXM NFL Radio, that O.J. Howard will be the weapon most likely to expect a rough Bucs season. And yesterday, former Bucs guard Ian Beckles echoed the same sentiment during his In The Trenches podcast. Beckles has long been no fan of Howard and doesn't expect Tom Brady to be, either.
Joe will throw one more esteemed man into the down-on-Howard crowd: birthday boy and Sage of Tampa Bay Sports Ira Kaufman, the JoeBucsFan.com columnist in his 42nd season covering the NFL. Ira is convinced that Cameron Brate will become a Brady favorite.
Joe knows who will be the hot targets this season — whoever Brady chooses.
Regardless, if the Bucs stay free of The Sickness, Joe is confident the Bucs will look to deal a weapon at the trade deadline to help another area of need.